Marie Performing
How do I sound performing live?
This is a common question ...
Why not just listen?
Below you'll find several albums that I've recorded ...
The first is "Marie Alicata Live" This will give you just a small example of how
I sound performing "live" ... The other albums also , although recorded in a
studio still represent the sound you'll hear when I'm performing "live."
All you need do is, click on a tune and you'll hear me performing!
"I Remember Loving You" (Original song by Marie)
"New York / New York Medley" (Just a small portion of the medley.)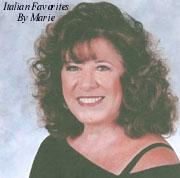 This is just a small demo of how I sound performing.
If you'd like a copy of one of my CDs They are $15. per album.
This includes shipping and handling in the continental United States.
And or, if you wish to have more information
Give Me a call at: (954) 772-7373
Or send an E-mail to:



malicata25@bellsouth.net
Home / Photo Album / Biography
Website design by:
Kurt Walter

http://kurtwalter.com/web.htm